PSEA.com RMS for Public Safety
Our RMS is affordable at only $150.00 per month and was constructed with the smaller agencies in mind. It is very customizable and we will host and manage the RMS for you at no additional cost. No need for servers or and IT team, we handle and customize the software to fit your agency's needs.
Contact us today for a demo or call and we will have you up and running in no time.
This is a limited offer as we are only interested is supporting 100 agencies.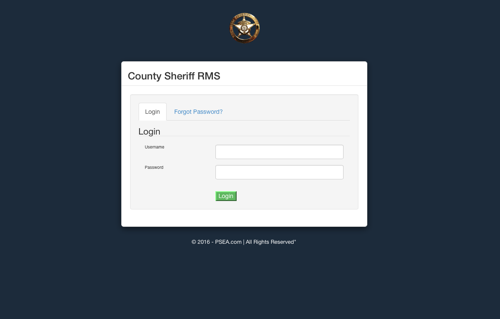 PSEA.com RMS begins with a regular login or with Two Factor Authentication where after entering their username and password the user would receive a text message with a random 7 digital code to enter prior to allowing access to the RMS.
Features
Securelogin
Password reset
Two-Factor Authentication
Remember Me feature on login
Login with email or username
Authentication Throttling (lock user account after few incorrect login attempts)
Interactive Dashboard
Unlimited number of user roles
Powerful admin panel
Super easy installation using installation wizard
User Activity Log
Avatar upload with crop feature
Built using Twitter Bootstrap
Active Sessions Management (see and manage all your active sessions)
Runs on PHP 5.5.9+ (including PHP 7) and HHVM
Security
CSRF Protection – all forms include CSRF token
Session Protection – highly secure Laravel 5.2 session mechanism
Highly secure one-way password hashing
Server Requirements
PHP > 5.5.9 (including PHP 7) or HHVM
OpenSSL PHP Extension
PDO PHP Extension
Mbstring PHP Extension
Tokenizer PHP Extension
GD PHP Extension
Fileinfo PHP Extension
PSEA.com RMS is Bootstrap grid software program that makes it easy to write reports.
Features
Report - Build your reports with only the information you need to add. Photos can be added to all sections of the report.
Start Log - Enter mileage, vehicle number and assignments
Roll Call - This section lists all BOLO or other announcements to all agency members.
Booking Report - Booking report includes arrested person property, medical needs / prescriptions and booking photos can be take using and iphone or ipad.
Records Search - Here you can search prior reports by persons name, address, property serial number or vehicle tag or VIN. And all report can be viewed / printed.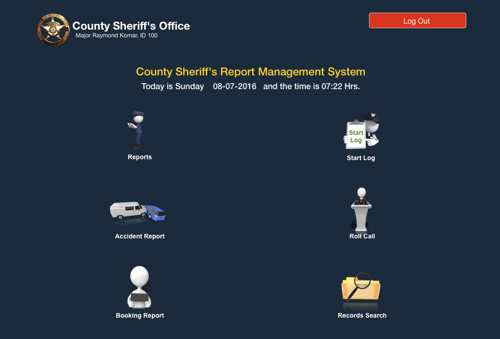 PSEA.com RMS makes it easy to add only the sections you need. Here you can add persons, offenses, property , vehicles and a narrative for the report. All sections allow for 2 photo per section and the photos can be take using your phone or tablet.
© 2016 - PSEA.com | All Rights Reserved"